New patients seeking treatment:
Our system is set up for patients who are seeking Orthodontic treatment, TMJ treatment or consultations for various other health issues.
This requires that you complete an extensive questionnaire to help us properly evaluate your health issues. Please read the information below or just click this link to get straight to the questionnaire link:

Our questionnaire is an extensive document. It has taken many years to evolve into it's present format. A lifetime of thought and experience lies buried in it.
We need to know a lifetime of your problems so that we can analyse them sequentially and see how your illness may have developed. We compare records with other patients presenting with similar illnesses. This helps confirm illness patterns and valid solutions can then be found.
Disease processes develop over a life time. Many pointers are already there at the time of birth. Others are a consequence of the environment and the quality of life one leads. Various illnesses, medications, vaccinations, dental procedures, orthodontic interventions, TMJ treatment modalities, accidents, sports activities and injuries also impact patients hugely.
Some contributory factors may have been thought of as inconsequential at the time. But time tells a different story.
This format of the questionnaire helps point out what is good and what is harmful. It helps pinpoint the potential causes of illness. If , e.g. a dozen patients have their teeth extracted and 6 months later they all develop back pain then the likelihood of a link to the extraction event would have a high degree of probability. Similarly if a number of patients have suffered a whiplash injury following a car accident but at the time it was inconsequential but 10 years later they all report 'MS' like symptoms than again a connection could be established.
Confirmation of these connections are already present in the very many patients who have already registered with us and are undergoing treatment.
The questionnaire can help pinpoint for you what may have been the trigger for your illness. In fact as some patients start completing the questionnaire it suddenly starts dawning on them what really had started their illness.
Patients follow many treatment methodologies but other than hearsay you do not know what is really worth your time and money and what you may be wasting your time and money on. Patients starting treatment with us complete this extensive questionnaire. After they have been having treatment for a few months they are asked to complete an update which graphically shows the progress they have made: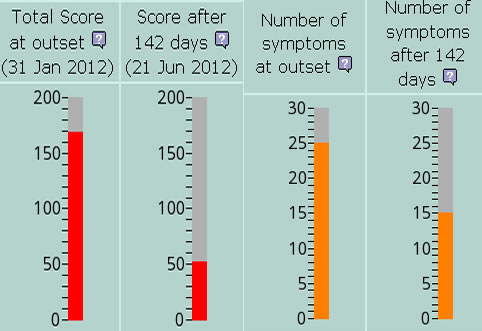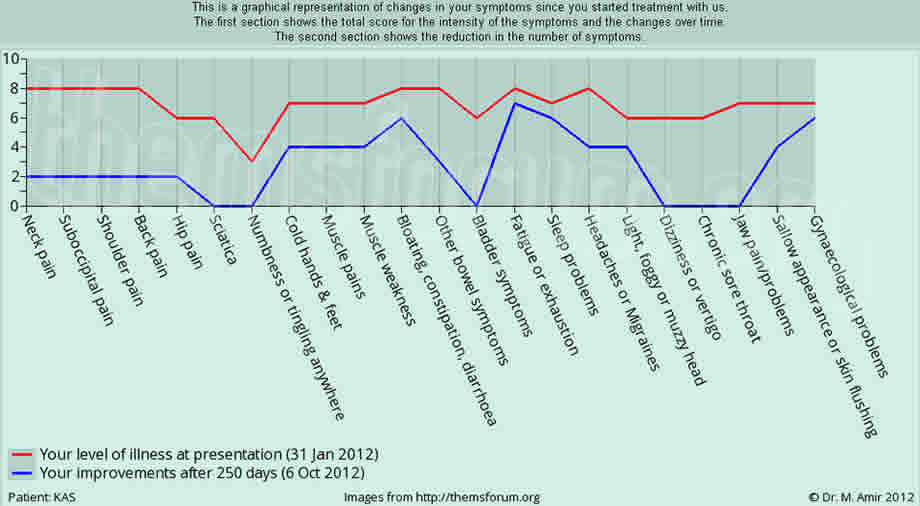 In future we will be analysing patient responses and can show short term and long term benefits of various treatments across groups of respondents.
We plan to analyse thousands of responses and show you graphically what the general population is experiencing.
Good luck.
This extensive questionnaire is available for £29.00. (This fee will be taken off the consultation fee of £220.00)
Now please click here for the system to take you to the registration form and the online payment by Paypal only before you can complete the Questionnaire.
Copyright © 2013 -2015 Dr. M. Amir. All rights reserved.